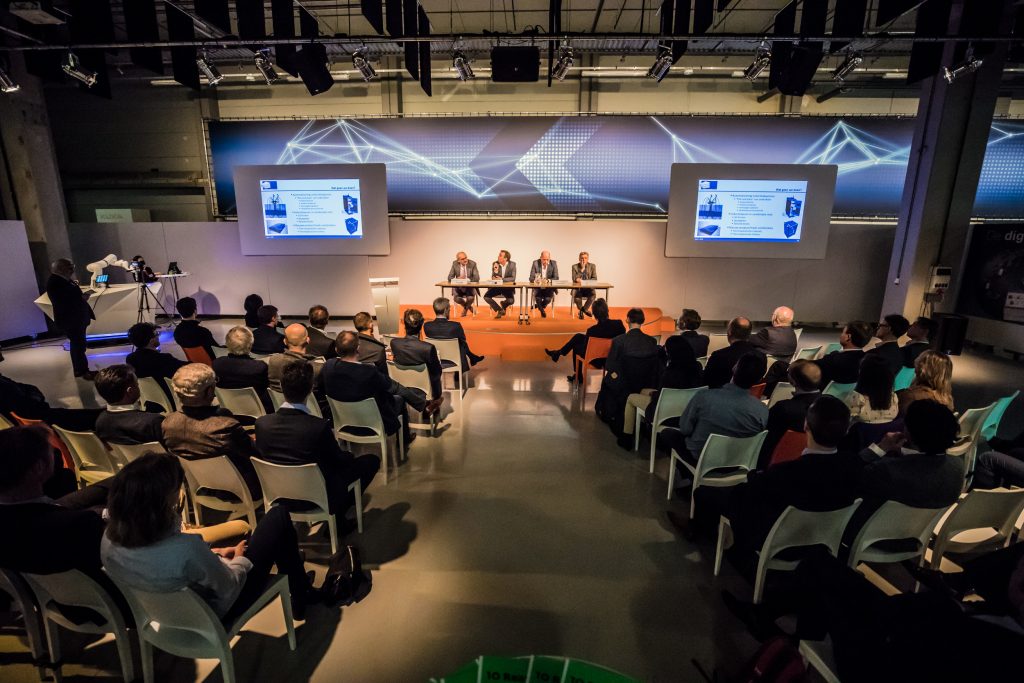 Ambition Technology Park Ypenburg: to become the regional and international magnet for business, investment, training and jobs in manufacturing industry of high-tech materials
The Hague, April 4 2018 – Today, the new 'Technology Park Ypenburg' program has been officially kicked off in The Netherlands. In this program, the municipality of The Hague, four local companies and the Digital Factory for Composites field lab (DFC) will jointly invest 1.6 million euros in 2018. The program focuses on automated and digitized production of advanced materials such as composite and fiber metal laminates, with an important role for robotics. With the joint investment, the manufacturing industry in (the region) The Hague can make a leap forward.
The Ypenburg business park in The Hague houses several high-tech companies, as well as a field lab. Four companies (Airborne, KVE, Promolding and GTM) and the field lab DFC join forces to make The Hague an international hotspot for the manufacturing industry of products based on high-tech materials. High-tech companies are the companies of the future and also determine to a large extent the economic development and employment of the future. The demand for products from high-tech materials will grow strongly, both nationally and internationally in the coming years. That is why a joint investment of 1.6 million euros is being made, which should form the foundation for strengthening the regional innovation power and the growth of business, jobs, knowledge institutes and investments aimed at innovative manufacturing industry, specialized in high-tech materials.
Jobs of the future
With this program, the initiators expect that an attractive business climate will be created for other companies at Ypenburg. They can benefit from the relevant infrastructure on the business park, mutual cooperation, cooperation with knowledge institutes and the municipality, and the presence of a diverse workforce in the region. The program also wants to give a positive impulse to local and regional training institutes through internships and workplaces. In addition, the innovative developments provide new employment for both higher and lower educated people.
Regional knowledge strengthens international competitiveness A component in the program is the Digital Factory for Composites field lab (DFC). Entrepreneurs, regional educational institutions and investors can go to this field lab for workshops, knowledge sharing, and find interesting investment projects. As part of Smart Manufacturing: Industrial Application in South Holland (SMITZH), the field lab will contribute to a strong region that can compete at world level. SMITZH aims to support the South Holland manufacturing industry in applying Smart Manufacturing. The ambition is to grow into a one-stop-shop where companies come for knowledge and technology to make their high-quality products competitive. Also in small series and/or single pieces.
QUOTES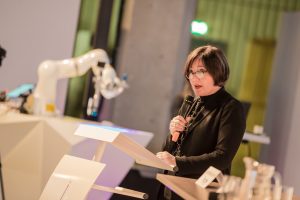 Saskia Bruines, alderman Knowlegde Economy, International Affairs, Youth & Education, municipality of The Hague: "The Hague is an international city with a strong, innovative economy. The business sector plays a crucial role in this, as a municipality we can facilitate and boost. This investment is good for the innovative strength, competitive position and employment in The Hague. The fact that the companies themselves also invest heavily shows the shared interest, commitment and confidence in the future."
Jac. Gofers, CEO, Promolding: "Now that the companies at Ypenburg have grown up, the time has come to offer a joint proposition that will mean a 'not-to-refuse offer' for the international business community. In the field of high-tech plastics and composites, top knowledge is available at both the companies and the educational programs in the region. It is great that we can now bring innovative products and processes to the Ypenburg Technology Park."

Harm van Engelen, director, KVE Composites Group: "As literally the first company that established itself on this business park after Fokker's bankruptcy, KVE has grown into a company with, among other things, unique knowledge in the field of welding thermoplastic composites. The collaborative project offers the possibility to link this knowledge to, for example, the injection moldi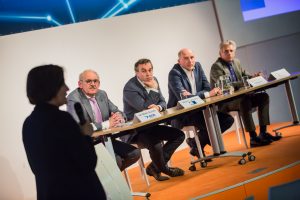 ng knowledge of Promolding, the satellite design knowledge of GTM and the automation knowledge of Airborne in order to realize completely new product-market combinations. Through intensive cooperation with knowledge institutions in the region, missing input from adjacent knowledge areas is added, such as mechatronics, modelling, sensor technology and chemistry. KVE expects a lot from this collaboration."
Jan Willem Gunnink, CEO/President, GTM Advanced Structures: "It is great that the city of The Hague supports the development of advanced products at the Ypenburg location. GTM is active in the field of advanced materials and constructions for aviation and space technology and appreciates this initiative of the municipality of The Hague. With this, she offers further possibilities to intensify the cooperation between the companies at Ypenburg and to serve the national and international industry even better with the high-tech products that are developed and made at Ypenburg. In view of the collaboration between GTM and the various training institutes in the Hague region (including the institute Advanced Hybrid Structures Center of Competence (AHSCC) with the TU Delft), GTM also sees the possibility of further developing these collaborations in projects and student counselling."
Marcus Kremers, Chief Technology Officer, Airborne: "Automation and digitization of composite manufacturing is at the core of our business strategy. This program and the cooperation with the other companies at Ypenburg and DFC strengthens the technological foundation and ensures that we can develop and grow much faster. We welcome the collaboration with partners very much, because the need for automation of composites in the market is much larger than we can cover only by ourselves."