Material research
The research division of Promolding concentrates mainly on polymer research. Internally and within our European connections new solutions are researched developed for our customers.
Within this website, we distinguish between:
1) Material selection = polymer selection dependant on the demand of your product
2) Material tests = assist development and pilot injection of materials
3) Material = development of a material on the basis of your specifications
4) Material coin = initiative to show the possibilities of polymers
Dont hesitate to pick up the phone and call us.
We can most probably help you further!
Tel 070-30 747 30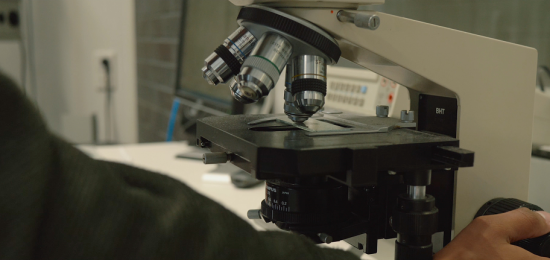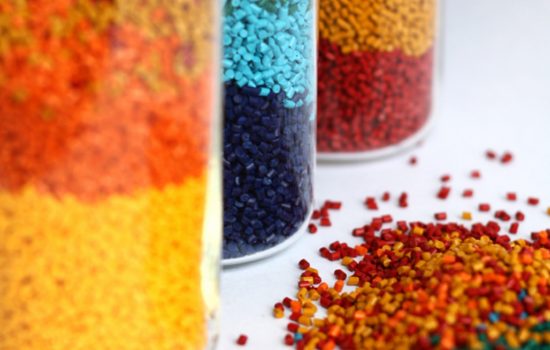 MATERIAL SELECTION
There are dozens of types of polymers, many examples are already visible in the materialcoin section. Each of these polymers can be filled with fibers, rubber particles, minerals, flame retardants or mixed with other polymers and so on.
The total range of different polymer materials is heading towards 100,000. There is a lot of expertise needed to make the right choice for your product, this expertise is available Promolding.
On the basis of the requirements of the product and the chosen production technique, a pre-selection can be made from existing materials. Often the data sheets from the material manufacturers contain a lot of information and Promolding has the necessary experience and expertise to analyze and understand the material characteristics and rank them dependant on conditions.
If necessary, pilot injections and material property tests and prototypes can be used to further select a material and insure that it is feasible for its intended use.
If there are no existing materials that meet the requirements of a product, promolding has the technology and expertise to develop a new material for your application
MATERIAL TESTING
To determine whether a material will meet the requirements for a products function, it may be desirable for certain properties to be tested.
The correct functioning of a product sometimes relies on material information that is not always given by the manufacturers. At promolding we know that some material characteristics are dependent on the product and also how the characteristics will effect it.
In that case, we may use 3D CAD product drawings along with finite element analysis (FEA) to compare certain material properties with results from tests on material samples and test prototype products. This information is then used to optimise a product its self or to aid material selection.
Tests can be conducted in a pilot production process using pilot dies or molds with similar dimensions to investigate the feasibility of complex products.
Also testing can be conducted to estimate reliability of a product under cyclic loading or long-term stationary loading.
Some of our good contacts to include the Technical University of Delft, TNO and several major research institutions in Europe (through our European research). due to our close working relationships we are able to use many types of research equipment which our contacts possess.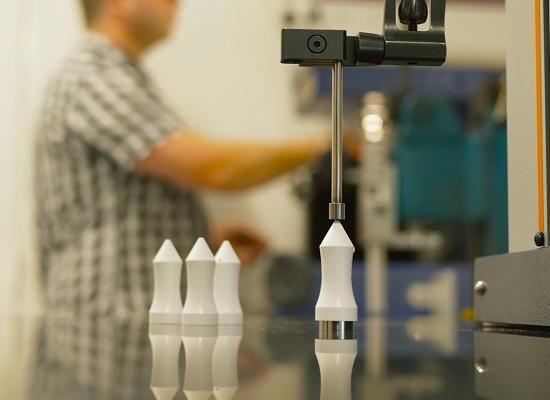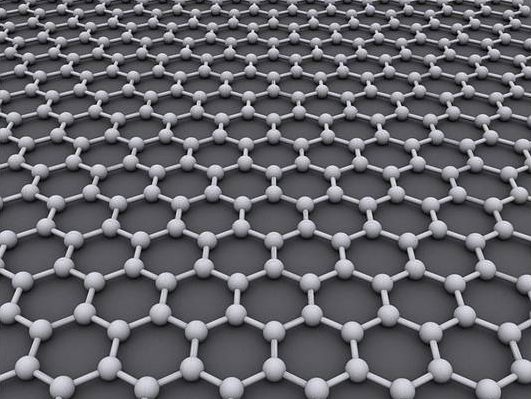 MATERIAL DEVELOPMENT
Sometimes the common materials do not have sufficient properties to satisfy all the requirements for a demanding product . In that case Promolding will develop a unique material specific to a particular application. By applying some additives properties such as electrical conductivity, thermal conductivity, high strength and stiffness, low coefficient of expansion and many other features are achieved in a polymer without compromising other properties . Sometimes, certain qualities can be united by mixing polymers (blends).
Promolding has its own 30 mm twin-screw extrusion line, this can be used for the creation of new materials on a small scale. The screw extrusion line creates enough material for test samples and to prototype a series of products. If positive results are gained when using the new material, the blend information can be sent to the manufacturers to be made and ordered in bigger quantities.
During European and national research projects that we have participated in and are still currently doing amongst others, we have gained knowledge in the development of the following materials:
– nano composites based on carbon nanotubes & nano-clay
– (exfoliated) graphite
– long fibers
– biopolymers & bio-composites
– hybrid materials consisting of:
– continuous fiber composites
– injection moldable composites
MATERIAL COIN
In May 2006 Promolding introduced the material coin. The Material coin is a disc with five different triangles with a different thickness and surface texture. Through this coin a good impression of the look and feel of various polymers can be gathered. Every month a material coin is made from a new polymer and is sent to colleges and universities in which we have close relationships with.
Inextricably linked to the Material coin is a document in which applications, mechanical properties, chemical resistance, melting points and processing methods are summarised. This information is now also publicly available on this site (see pull-down menu on the right).
In 2007, the material coin won first prize at the Materials Engineering Fair for the best material selection and information system. The judges praised the material coin as an effective way to provide information on the various plastic materials available, and as a way to broaden horizons of clients regarding product solutions.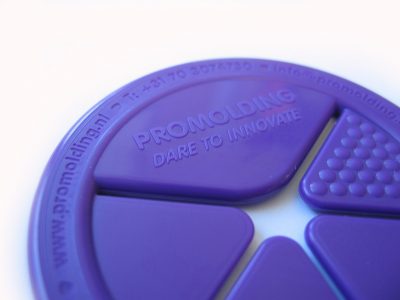 RESEARCH
EU FUNDED RESEARCH & PUBLICATIONS